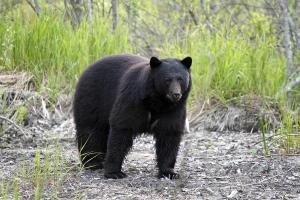 11/05/2010
I went to one mile lake after dinner for a walk, it was such a beautiful evening. Just when i got there i heard a big cracking noise coming from the bushes right next to me, i stopped and saw this big black bear just a few meters away.
I backed off to give him room and he went back in to the woods, but then he re-emerge just a little further, and i just looked at him, he looked at me and he was walking towards me , i just stayed there and took a few photos, he eventually turned towards the woods again .
it was very exiting, and a bit scary cuz i wasnt in the safety of my truck. there was other people at the lake and its funny how a cool event brings people together, i talked to about 5 people about the bear, cuz they saw me taking photos and showed them my pictures on the back of the camera.

there has been a lot of bear sightings lately. they are just emerging from hibernation. on the look out for food, they mostly eat grass at this time of year.
its such a rush to see wildlife like that in your backyard. one mile lake is amazing for that , so much different wildlife.